FOREST AT YOUR HOME
Curvetta Philosophy
With a team of professionals from ITALY and VIETNAM, CURVETTA LTD develops its own line of modern, functional and aesthetic products with a FOCUS ON NATURE! Our philosophy engages quality and nature-friendly solutions.
We are highly specialized in the following services:
– Import and distribution of certified FSC 100% European lumber such as White Oak, Beech, Ash…
– Elements in solid bent wood for the furniture industry
– Modern,contemporary, easy and classic chairs
– Prototypes, frames, custom made furnitures
– QRV – our new furniture brand, unique creations, never seen before – based on steam bent solid wood
– CURVY – our line of seatings and reproduction of famous design, from Vienna chairs to Scandinavian style 
We are showing some session to give you an idea, Please let us know which item might be of your interest and we will happy to meet and provide more details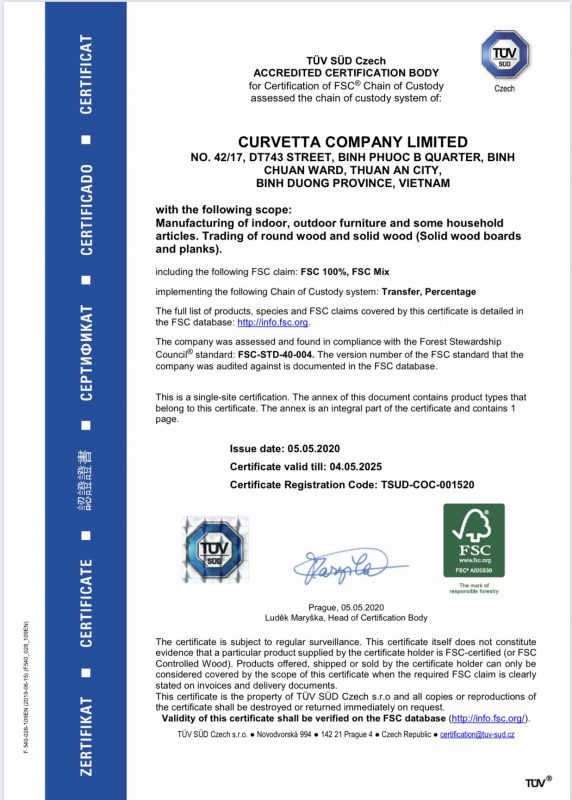 CERTIFICATE FSC® License number FSC®-C156917 – Certificate code TSUD-COC-001520
This is so valuable for the ECO SYSTEM and ENVIRONMETALLY FRENDLY at Curvetta's Product.!